Sweet Little Girls Looking For Love At The Opera (Antique Valentine Card)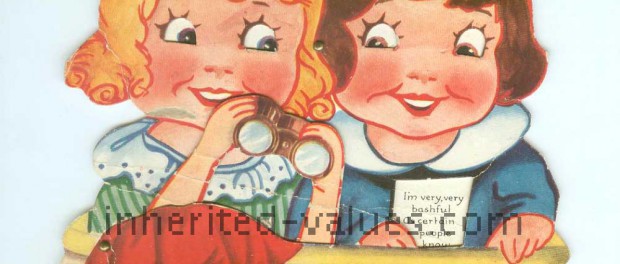 This antique mechanical Valentine's Day card features a pair of cute, chubby-cheeked girls. One holds a pair of opera glasses or binoculars and, when you move the section on the back, they move up and down. The girls eyes also move of "google".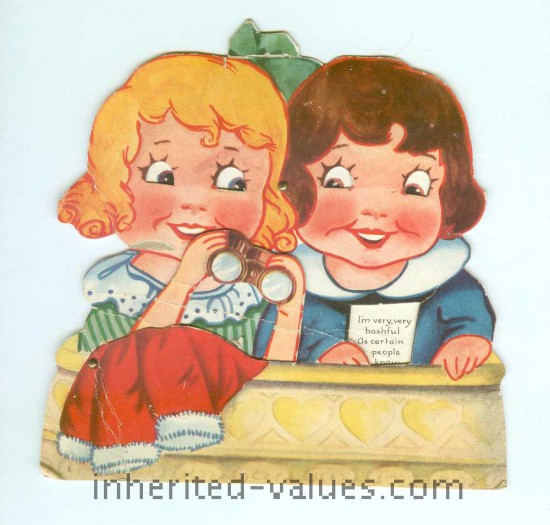 The text also changes. First it reads:
I'm very very bashful as certain people know
Then:
So I'm sending this to ask you if I stand any show
Here it is in action!
The aretwork is similar in style to the Campbell's Soup Kids by Grace Wiederseim Drayton, but there is no mark for the illustrator. The back is marked Carrington, for the George S. Carrington Company, with a 'G' in tree logo.
If you are interested in this antique mechanical die-cut valentine, it's available for purchase at Exit 55 Antiques (Fergus Falls, MN). You can call the shop at (218) 998-3088 between 10 am and 5 pm (central time), any day. (Just let them know it can be found on EQ's shelf in the case with the most vintage and antique Valentine's Day cards.) Or, you can contact me directly at my dealer's website, We Have Your Collectibles, home of Fair Oaks Antiques.