Mercury Stamps: Then and Now
Fifty years ago last week, John Glenn orbited the Earth three times and splashed down five hours later…which was the signal for the US Post Office to release their commemorative stamp.  When the stamp was announced, Will Black got his mom to drive to the post office to get some of his own, and that got him in the newspaper: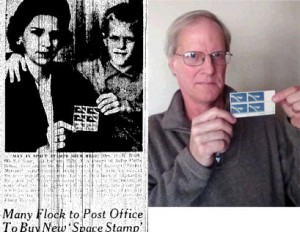 Fifty years later, Mr Black still has those stamps…well, four of the block of six he originally got.   He parted ways with two of the stamps over the years, but the newspaper shows the proof of his original purchase.